KiCKSTART YOUR PODCASt SUCCESSFULLY
Turn your audio into a content machine

Have you ever wanted to start a podcast, but didn't really know where to start? If you reply to this question positively, then you are at the right place! Podcastize is a reliable team of experienced audio engineers, graphic designers, creative writers and web developers, that will make it easy for you to get your podcast game going!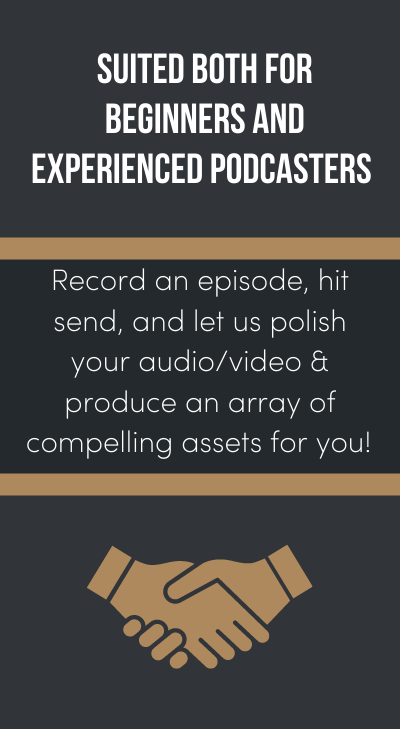 Appoint a

free

consultation today!
We want to find out more about your podcast, and provide a free consultation about the best strategies to launch the podcast, or about the best ways to enhance your current podcast's impact!
Why let Podcastize produce your podcast?
sound & look great!
audio / video production
---
Pristine quality of audio and video post-production done by meticulous and detail-oriented approach to your material, will make your recordings not only meet the highest quality broadcast standard, but will also make it stand out from the crowd.
professional & enticing
GRAPHIC DESIGN
---
Make your show visually recognizable by using consistent, modern, and slick graphic design throughout your episodes. A visually appealing post will contribute to getting your message across to the listeners/viewers of your podcast.
build hq seo blog on the go
CREATIVE WRITING
---
Each one of your episodes will be supplied with the meticulously written and thought-provoking Show notes, perfectly suited to entertain the consumers of your podcast through a website/blog post, social media post, mailing list notification or whichever way you want to use them.
spread the word!
PUBLICATION
---
Don't stress about whether your show will pass the strict publication requirements and standards. Leave this to us! From launching your show on over 20 major streaming platforms, to regular publishing on your website or social media, you have a reliable partner to take care of this for you.
tell us about you and your podcast!